Introduction to Growth Strategies for Small Businesses in 2022
A notable year for the majority of enterprises worldwide was 2021. It brought about a time of recovery and healing from the effects of COVID-19 and the economic instability that shook the world in 2020. Many small companies were decimated after the outbreak. Things are steadily changing as we approach the year 2022. Small business owners must realize that they need a successful business plan in order to stay ahead of their rivals in this modern era. They need to find out Small Business Growth Strategies for 2022 and then work on these.
According to Forbes, 54% of SMEs still think that the effect of COVID downfall is not over. There is a twist in the business air, as 41% of these companies want to replan or remodel their business, while 39.7% want to invest in digital marketing. All these numbers tell us, that each business is in search of some kinda change, hence they need deadly and high-revenue-making growth strategies for small businesses for 2022.
Top 10 growth strategies for small business
We've produced a thorough list of 10 suggested business tactics in this post that will aid small firms in expanding in 2022. Let's quickly review them: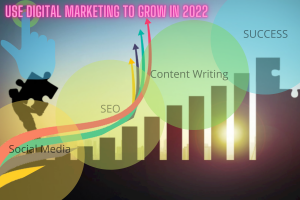 Revamping of Business Model to Suit the Current Market
In fact, a lot of things in business have altered since the year 2020. It had an impact on how most firms operate as well as the products they supply.
Life has never been the same for customers. People's perspectives on life have evolved, which has an impact on how they approach buying goods and services.
This is the reason why every firm should spend some time researching the most recent market trends. Additionally, decide how to adapt their goods or services to these new trends.
Customers now favor companies that offer efficient virtual-based services over those that focus more on one-to-one services. An essential component of improving business performance in 2022 will continue to be comprehending the current market conditions and knowing how to adjust to them.
More Flexible Marketing Approach:
Traditional digital marketing strategies are progressively losing their effectiveness because of the area's congestion and changing rules. Small business entrepreneurs must therefore be more inventive in their marketing strategies.
The success of a business depends heavily on marketing since, without it, it would be impossible to convert potential customers or keep existing ones as repeat customers. Learn to use a more adaptable marketing strategy for growth strategies for small businesses. Offer your customers something unique compared to what they are accustomed to.
We also suggest that companies broaden their target markets. Create only engaging, utterly believable marketing campaigns or promotions.
Grassroots and Micro-Influencing Approach:
In business, grassroots marketing is one of the most successful marketing strategies. Here, businesses can have one-on-one interactions with potential clients.
In grassroots marketing, a company focuses on a smaller audience in the hopes that they will spread the word to a bigger one. If you are offering services to the locals, this will work best.
Now let's talk about micro-influencing. This is the kind of influence marketing where a celebrity is not involved. Of course, hiring a celebrity to advertise your company costs money.
Now, the goal is to employ people who are more socially active than the average person but not as active as celebrities. The term "Micro-influencers" refers to them. There might be anywhere between 1000 and 100,000 followers.
Once they advertise a company strategy on their website, they can draw a respectable amount of attention thanks to their level of social media visibility.
The fact that micro-influencers are far more affordable than using celebs is another fantastic advantage.
You can reach a larger social media audience with your marketing efforts by introducing a few of these micro-influencers. increasing your web visibility as a result.
Improve Social Engagement with Visual Content:
Digital marketing involves more than just increasing website traffic. Another vital statistic for measuring performance is engagement. In reality, engaging your website visitors and social media followers can increase repeat business and even make your profiles more visible to various algorithms.
Boost SEO with a Business Podcast:
Probably not the first thing that comes to mind when you consider SEO tactics is podcasting. After all, there aren't many keywords in audio content that search engines can index. However, you shouldn't completely disregard this tactic.
Adopt Video and Local SEO Strategies in Marketing Approach:
By 2022, it is predicted that 82% of customer traffic to firms will come from videos, based on how social media platforms respond to video content. Small firms are encouraged to start giving video SEO priority for this reason. The organic traffic from search engines to websites can be increased by using brief films in blog posts.
Local SEO optimizations are an additional consideration. Local SEO tactics are created to target local residents as potential buyers.
Update your website as well as your Google My Business page. As a result, potential clients may simply learn more about your services by visiting your company's directory and website.
Adopting video and local SEO strategies is still one of the hottest small business growth strategies for 2022 right now. Companies are now adopting a more direct marketing strategy.
Don't Neglect B2B Marketing as a growth strategy for small business 
Since most companies primarily concentrate on customers, business-to-business content is frequently overlooked. B2B marketing, however, may be quite successful for the majority of businesses. mostly due to the fact that B2B searches are intent-based.
One is more likely to be interested in speaking with a representative to learn more about your services when a company provides educational information on specific solutions.
Long-form content that addresses a particular issue, instructional blogs, white papers, quizzes, and other forms of educational material can all assist nurture leads and increasing audience trust. In actuality, content marketing is used to establish trust by close to 68% of B2B marketers.
Make Your Current Employees Happier
Employees are often at their best when they are content in their current situation. Now, how can a company maintain a happy workforce?
Simply by making congenial proposals that meet their requirements. It could be done by offering incentives or ensuring flexible work arrangements.
Because of the pandemic, for example, many people now prefer to work from home rather than go to the workplace out of fear of getting sick. Therefore, if your company is fortunate enough to permit remote work, do so. Then you might have to think about this choice.
As an alternative, you may provide duty roosters that indicate when each member of your team can work from home or from the office. Of course, only carry out this action if it benefits your company.
Make time for recreational activities as well to reduce stress at work. Encourage your employees to interact more through text messages, social media group chats, videos, and other means. This might improve their sense of unity. And these are one of the important small business growth strategies for 2022.
Final thoughts on growth strategies for small business for 2022
Marketers will continue to experiment with new tactics as brands compete for consumers' attention in these still uncertain times. You can stay on top of the game and accomplish your objectives by paying attention to these marketing trends and Small Business Growth Strategies for 2022.